Fast Salt Dyes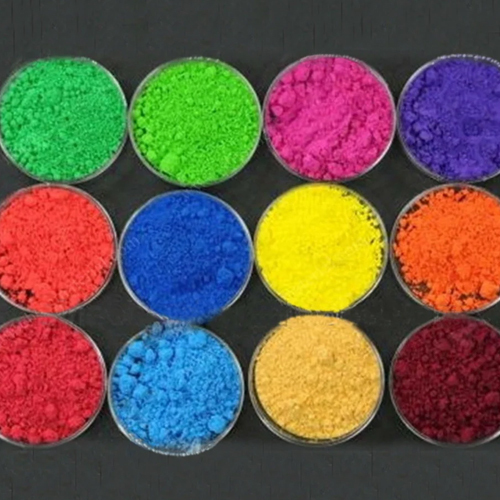 Fast Salt Dyes
Price And Quantity
, Kilograms/Kilograms

51.00 - 60.00 INR
Product Description
Fast Bases - Salts are highly sensitive to heat and moisture and need to be always stored in cool dry place. Being freely soluble in water, it is used in dyeing process in two stages.
The first stage, involves material getting impregnated with naphthol solution.
In second stage, further development takes place with use of diazotized fast base.
Combining chemically with naphthol, it gets absorbed by fiber thus providing insoluble dye on fiber. These can be used in different dyeing methods including tub-dip, open beck, jigger, circulating liquor and padding methods where different material to liquor ratio is used in different dyestuff concentrations for achieving defined shades. These dyes are skin friendly and easy to apply.
Fast Base and Fast Salt Dyes:-
We take pride in being a respectable manufacturer and exporter of excellent quality Fast Base and Fast Salt Dyes. Such type of bases and dyes are widely used in textile industry. It is used for wax print and African print. When dyeing in naphthol, Fast Base and Fast Salt Dyes become suitable for application in textile, plastic, chemical and pharmaceutical industries. Moreover, these bases and dyes are also used in achieving blue, maroon, yellow color shades which are impossible to get with other dyestuff.

Applications

These color bases are widely used in:

Textile
Chemical
Pharmaceutical
Plastic
Availability

We offer these in following packaging

25 kgs HDPE Bags with double liner support from inside
Plastic Drums
Iron Drums
Fiber Drums.
MOQ 50kg:

| PRODUCTS | C. I. No | Const. No. |
| --- | --- | --- |
| Bordeaux GP | 37135 | AZOIC DIAZO COMPONENT 1 |
| Orange GC | 37005 | AZOIC DIAZO COMPONENT 2 |
| Red B | 37125 | AZOIC DIAZO COMPONENT 5 |
| Red RC | 37120 | AZOIC DIAZO COMPONENT 18 |
| Red TR | 37085 | AZOIC DIAZO COMPONENT 11 |
| Scarlet RC | 37130 | AZOIC DIAZO COMPONENT 13 |
| Yellow GC | 37000 | AZOIC DIAZO COMPONENT 44 |
| Blue B | 37235 | AZOIC DIAZO COMPONENT 48 |
| Garnet GBC | 37218 | AZOIC DIAZO COMPONENT 5 |
| Black K | ----- | AZOIC DIAZO COMPONENT 38 |
| Red KB | 37090 | AZOIC DIAZO COMPONENT 32 |
| Blue BB | 37175 | AZOIC DIAZO COMPONENT 20 |
| Red 3GL | 37040 | AZOIC DIAZO COMPONENT 9 |
| Scarlet GG | 37010 | AZOIC DIAZO COMPONENT 3 |
| Orange RD | 37050 | AZOIC DIAZO COMPONENT 49 |
| Corinth V | 37220 | AZOIC DIAZO COMPONENT 39 |