Food Color Additives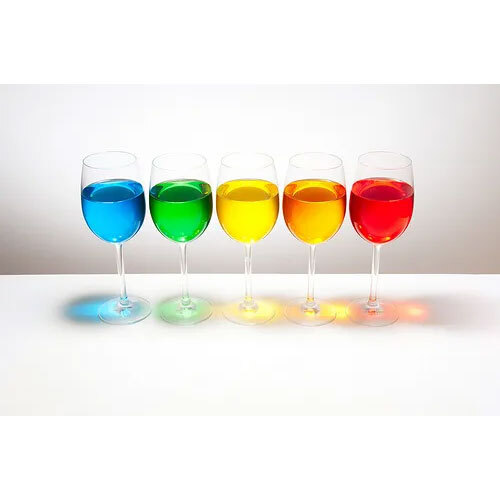 Food Color Additives
Product Description
Food Color Additives/Artificial Food Colors
Aided by an expert panel of professionals, we are manufacturing and exporting premium quality Food Colors like Food Color Additives, Artificial Food Colors, Synthetic Food Colours, etc . Quality raw materials are used,procured from sourced vendors of the market, to process this product. Our products are widely used dyes that finds it application in food, pharmaceuticals and cosmetics. These colors enhances the natural color and taste of food. Mottled range of these colors include liquids, powders, gels and pastes. Empowered with with perfect combination of dedicated work force, we are able to ensure the supreme quality Food Colors.
Food Color Additive is used in foodstuffs or drinks that imparts certain color. Reckoned among the leading manufacturers,supplier and exporters, we deal in finest quality Food Color Additives/Artificial Food Colors that are manufactured with high grade raw materials. These are the class of dyes or pigments with no harmful effects to when applied in drinks or foodstuffs. The range is available in liquid, gel, powder and paste form. This is excellent product for beverages, dry mixes, baked goods, confections, dairy products and pet food. Customer's inquiries are most welcome.

Notable Features of Food Color Additive:

Pure in compositions
Impart perfect color to the foodstuffs and beverages
Safe To Consume
Free From Impurities
Longer Shelf Life
No Side Effects
Can Bring Attractive Color To Your Food Dishes
Light Fastness
Good Heat Stability
Free From Moisture
Accurate Composition
Safe To Use
Show Accurate Results
It Very Easy To Use
These Are Non-Toxic
They Have No Taste
Dark Color Tone
Balanced Composition
No Or Minimal Side Effects
Highly Concentrated
Excellent Fastness Properties
Good Solubility Properties
Excellent Quality And Perfectly Safe For Use
High Tinting Strength
Manufactured using the best grade raw materials
Available in liquid, powder, paste and gel form
Our Manufacturing Facility

We have a completely advanced infrastructure which helps us in the manufacturing of superior quality Food Color Additives, Artificial Food Colors, Synthetic Food Colours and allied Colors without any delay. The machines installed in our production facility are hi-tech and completely reliable in operating 24x7 for non stop production. Other modern facilities needed for the proper functioning of our business is available in our business setup. Further, our location is brilliantly connected with all sorts of transportation modes to ensure smooth inflow and outflow of materials and goods.

Our Primary Competitive Advantages

Latest methods of production
Easy modes of payment
On time delivery
Certified vendors

Our Available Artificial Food Colors:
| | | | | |
| --- | --- | --- | --- | --- |
| COLOUR INDEX NO. | 19140 | | COLOUR INDEX NO. | 15985 |
| FOOD COLOUR NO & NAME | YELLOW 4, TARTRAZINE | | FOOD COLOUR NO & NAME | YELLOW 3, SUNSET YELLOW FCF |
| F.D. & C.NO. | YELLOW 5 | | F.D. & C.NO. | YELLOW 6 |
| CAS NO. | 1934-21-0 | | CAS NO. | 2783-94-0 |
| E.E.C. NO. | E-102 | | E.E.C. NO. | E-110 |
| I.S.NO. | 1694 | | I.S.NO. | 1695 |
| TOTAL DYE CONTENT CORRECTED FOR SAMPLE (MIN) | 87% | | TOTAL DYE CONTENT CORRECTED FOR SAMPLE (MIN) | 87% |
| VOLATILE MATTER (CHLORIDE & SULPHATE)(MAX) | 13% | | VOLATILE MATTER (CHLORIDE & SULPHATE)(MAX) | 13% |
| SOLUBILITY IN WATER (20 C) | 120 GRAM/LITRE | | SOLUBILITY IN WATER (20 C) | 120 GRAM/LITRE |
| COMBINED ETHER EXTRACT.MAX | 0.20% | | COMBINED ETHER EXTRACT.MAX | 0.20% |
| WATER INSOLUBLE (MAX) | 0.20% | | WATER INSOLUBLE (MAX) | 0.20% |
| CLASS | MONOAZO | | CLASS | MONOAZO |
| LIGHT STABILITY | 6 | | LIGHT STABILITY | 4 |
| HEAT STABILITY(100 C) | 5 | | HEAT STABILITY(100 C) | 5 |
| ALKALI STABILITY | 4 | | ALKALI STABILITY | 4 |
| SUBSIDIARY DYES(MAX) | 1.00% | | SUBSIDIARY DYES(MAX) | 1.00% |
| DYES INTERMEDIATE(MAX) | 0.50% | | DYES INTERMEDIATE(MAX) | 0.50% |
| LEAD | < 10 PPM | | LEAD | < 10 PPM |
| ARSENIC | < 3 PPM | | ARSENIC | < 3 PPM |
| MERCURY | < 1 PPM | | MERCURY | < 1 PPM |
| HEAVY METALS | < 20 PPM | | HEAVY METALS | < 20 PPM |
| | | | | |
| COLOUR INDEX NO. | 14720 | | COLOUR INDEX NO. | 16255 |
| FOOD COLOUR NO & NAME | RED 3, CARMOISINE | | FOOD COLOUR NO & NAME | RED 4, PONCEAU 4R |
| CAS NO. | 53026-69-9 | | CAS NO. | 2611-82-7 |
| E.E.C. NO. | E-122 | | E.E.C. NO. | E-124 |
| I.S.NO. | 2923 | | I.S.NO. | 2558 |
| TOTAL DYE CONTENT CORRECTED FOR SAMPLE (MIN) | 87% | | TOTAL DYE CONTENT CORRECTED FOR SAMPLE (MIN) | 82% |
| VOLATILE MATTER (CHLORIDE & SULPHATE)(MAX) | 13% | | VOLATILE MATTER (CHLORIDE & SULPHATE)(MAX) | 18% |
| SOLUBILITY IN WATER (20 C) | 120 GRAM/LITRE | | SOLUBILITY IN WATER (20 C) | 120 GRAM/LITRE |
| COMBINED ETHER EXTRACT.MAX | 0.20% | | COMBINED ETHER EXTRACT.MAX | 0.20% |
| WATER INSOLUBLE (MAX) | 0.20% | | WATER INSOLUBLE (MAX) | 0.20% |
| CLASS | MONOAZO | | CLASS | MONOAZO |
| LIGHT STABILITY | 5 | | LIGHT STABILITY | 4 |
| HEAT STABILITY(100 C) | 4 | | HEAT STABILITY(100 C) | 5 |
| ALKALI STABILITY | 4 | | ALKALI STABILITY | 3 |
| SUBSIDIARY DYES(MAX) | 1.00% | | SUBSIDIARY DYES(MAX) | 1.00% |
| DYES INTERMEDIATE(MAX) | 0.50% | | DYES INTERMEDIATE(MAX) | 0.50% |
| LEAD | < 10 PPM | | LEAD | < 10 PPM |
| ARSENIC | < 3 PPM | | ARSENIC | < 3 PPM |
| | | | MERCURY | < 1 PPM |
| | | | HEAVY METALS | < 20 PPM |
| | | | | |
| COLOUR INDEX NO. | 16035 | | COLOUR INDEX NO. | 42090 |
| FOOD COLOUR NO & NAME | RED 17,ALLURA RED | | FOOD COLOUR NO & NAME | BLUE 2, BRILLIANT BLUE FCF |
| F.D. & C.NO. | RED 40 | | F.D. & C.NO. | BLUE 1 |
| CAS NO. | 25956-17-6 | | CAS NO. | 3844-45-9 |
| E.E.C. NO. | E-129 | | E.E.C. NO. | E-133 |
| TOTAL DYE CONTENT CORRECTED FOR SAMPLE (MIN) | 85% | | I.S.NO. | 6405 |
| VOLATILE MATTER (CHLORIDE & SULPHATE)(MAX) | 15% | | TOTAL DYE CONTENT CORRECTED FOR SAMPLE (MIN) | 87% |
| SOLUBILITY IN WATER (20 C) | 120 GRAM/LITRE | | VOLATILE MATTER (CHLORIDE & SULPHATE)(MAX) | 13% |
| COMBINED ETHER EXTRACT.MAX | 0.20% | | SOLUBILITY IN WATER (20 C) | 120 GRAM/LITRE |
| WATER INSOLUBLE (MAX) | 0.20% | | COMBINED ETHER EXTRACT.MAX | 0.20% |
| CLASS | MONOAZO | | WATER INSOLUBLE (MAX) | 0.20% |
| LIGHT STABILITY | 4 | | CLASS | TRIARYLMETHANE |
| HEAT STABILITY(100 C) | 5 | | LIGHT STABILITY | 5 |
| ALKALI STABILITY | 4 | | HEAT STABILITY(100 C) | 5 |
| SUBSIDIARY DYES(MAX) | 10.00% | | ALKALI STABILITY | 5 |
| DYES INTERMEDIATE(MAX) | 0.50% | | SUBSIDIARY DYES(MAX) | 3.00% |
| LEAD | < 10 PPM | | DYES INTERMEDIATE(MAX) | 1.80% |
| ARSENIC | < 1 PPM | | LEAD | < 10 PPM |
| MERCURY | < 1 PPM | | ARSENIC | < 3 PPM |
| HEAVY METALS | < 20 PPM | | MERCURY | < 1 PPM |
| | | | | |
| | | | | |
| | | | | |
| COLOUR INDEX NO. | 18050 | | COLOUR INDEX NO. | 44090 |
| FOOD COLOUR NO & NAME | FOOD RED 10, RED 2G | | FOOD COLOUR NO & NAME | FOOD GREEN 4, GREEN S |
| F D & C REF NO. | D & C RED # 11 | | F D & C REF NO. | - |
| CAS NO. | 3734-67-6 | | CAS NO. | - |
| E.E.C. NO. | E 128 | | E.E.C. NO. | E 142 |
| I.S.NO. | - | | I.S.NO. | - |
| PURE DYE CONTENT CORRECTED FOR SAMPLE (MIN) | 80% | | PURE DYE CONTENT CORRECTED FOR SAMPLE (MIN) | 80% |
| VOLATILE MATTER (CHLORIDE & SULPHATE)(MAX) | 20% | | VOLATILE MATTER (CHLORIDE & SULPHATE)(MAX) | 20% |
| WATER INSOLUBLE (MAX) | 0.2% | | WATER INSOLUBLE (MAX) | 0.2% |
| COMBINED ETHER EXTRACT.MAX | 0.2% | | COMBINED ETHER EXTRACT.MAX | 0.2% |
| SUBSIDIARY DYES, MAX | 2.0% | | SUBSIDIARY DYES, MAX | 1.0% |
| DYE INTERMEDIATES, MAX | 0.5% | | DYE INTERMEDIATES, MAX | 0.8% |
| LUECO BASE, % BY MASS, MAX | - | | LUECO BASE, % BY MASS, MAX | 5.0% |
| UNSULPHONATED AROMATIC AMINES, % MAX | 0.01% | | UNSULPHONATED AROMATIC AMINES, % MAX | 0.01% |
| LEAD (AS, PB), MG / KG., MAX | 10 | | LEAD (AS, PB), MG / KG., MAX | 10 |
| ARSENIC (as, As), MG / KG., MAX | 3 | | ARSENIC (as, As), MG / KG., MAX | 3 |
| MERCURY (as, Hg.)MG / KG., MAX | 1 | | MERCURY (as, Hg.)MG / KG., MAX | 1 |
| CHROMIUM (AS, CR), MG / KG., MAX | 15 | | CHROMIUM (AS, CR), MG / KG., MAX | 15 |
| CADMIUM, MG / KG., MAX | 1 | | CADMIUM, MG / KG., MAX | 1 |
| COPPER, MG / KG., MAX | 10 | | COPPER, MG / KG., MAX | 10 |
| HEAVY METALS, MG / KG., MAX | 40 | | HEAVY METALS, MG / KG., MAX | 40 |
| AROMATIC NON SULPHATED AMINES | NOT DETECTED | | AROMATIC NON SULPHATED AMINES | NOT DETECTED |
| | | | | |
| Color Name | BLENDED COLOURS | | | |
| EGG YELLOW | BO 3090 | | COLOUR INDEX NO. | 20285 |
| YOLK YELLOW | BO 4590 | | FOOD COLOUR NO & NAME | BROWN 3, CHOCOLATE BROWN HT |
| ORANGE RED | BO 3890 | | CAS NO. | 4553-89-3 |
| STRABERRY RED | BO 4290 | | E.E.C. NO. | E-155 |
| ROSE PINK | BO 4190 | | TOTAL DYE CONTENT CORRECTED FOR SAMPLE (MIN) | 70% |
| RASPEBERRY RED | BO 4090 | | VOLATILE MATTER (CHLORIDE & SULPHATE)(MAX) | 30% |
| GRAPE | BO 3290 | | SOLUBILITY IN WATER (20 C) | 120 GRAM/LITRE |
| VIOLET | BO 4490 | | COMBINED ETHER EXTRACT.MAX | 0.20% |
| COFFEE BROWN | BO 2690 | | WATER INSOLUBLE (MAX) | 0.20% |
| CHOCOLATE BROWN | BO 2490 | | CLASS | BISAZO |
| DARK CHOCOLATE | BO 2890 | | LIGHT STABILITY | 4 |
| LIME GREEN | BO 3690 | | HEAT STABILITY(100 C) | 5 |
| APPLE GREEN | BO 2190 | | ALKALI STABILITY | 4 |
| PEA GREEN | BO 3990 | | SUBSIDIARY DYES(MAX) | 10.00% |
| BLACK CURRENT | BO 2290 | | DYES INTERMEDIATE(MAX) | 0.70% |
| FALSA | BO 4790 | | LEAD | < 10 PPM |
| KHALA KHATTA | BO 1290 | | ARSENIC | < 1 PPM |
| DARK ORANGE | BO 5290 | | MERCURY | < 1 PPM |
| PURPLE | BO 3790 | | HEAVY METALS | < 20 PPM |
| BLACK PN | BO 5390 | | | |
| | | | | |
| | | | | |
| COLOUR INDEX NO. | 45430 | | COLOUR INDEX NO. | 16185 |
| FOOD COLOUR NO & NAME | RED 14, ERYTHROSINE | | FOOD COLOUR NO & NAME | RED 9, AMARANTH |
| F.D. & C.NO. | RED 3 | | F.D. & C.NO. | RED 2 |
| CAS NO. | 16423-68-0 | | CAS NO. | 115-67-3 |
| E.E.C. NO. | E-127 | | E.E.C. NO. | E-123 |
| I.S.NO. | 1697 | | TOTAL DYE CONTENT CORRECTED FOR SAMPLE (MIN) | 87% |
| TOTAL DYE CONTENT CORRECTED FOR SAMPLE (MIN) | 87% | | VOLATILE MATTER (CHLORIDE & SULPHATE)(MAX) | 13% |
| VOLATILE MATTER (CHLORIDE & SULPHATE)(MAX) | 13% | | SOLUBILITY IN WATER (20 C) | 120 GRAM/LITRE |
| SOLUBILITY IN WATER (20 C) | 120 GRAM/LITRE | | COMBINED ETHER EXTRACT.MAX | 0.20% |
| COMBINED ETHER EXTRACT.MAX | 0.20% | | WATER INSOLUBLE (MAX) | 0.20% |
| WATER INSOLUBLE (MAX) | 0.20% | | CLASS | MONOAZO |
| CLASS | XANTHENE | | LIGHT STABILITY | 4 |
| LIGHT STABILITY | 3 | | HEAT STABILITY(100 C) | 5 |
| HEAT STABILITY(100 C) | 4 | | ALKALI STABILITY | 4 |
| ALKALI STABILITY | 3 | | SUBSIDIARY DYES(MAX) | 1.00% |
| SUBSIDIARY DYES(MAX) | 4.00% | | DYES INTERMEDIATE(MAX) | 0.50% |
| DYES INTERMEDIATE(MAX) | 0.50% | | LEAD | < 10 PPM |
| LEAD | < 10 PPM | | ARSENIC | < 1 PPM |
| ARSENIC | < 3 PPM | | MERCURY | < 1 PPM |
| MERCURY | < 1 PPM | | HEAVY METALS | < 20 PPM |
| HEAVY METALS | < 20 PPM | | | |
| | | | COLOUR INDEX NO. | 73015 |
| COLOUR INDEX NO. | 47005 | | FOOD COLOUR NO & NAME | BLUE 1, NDIGO CARMINE |
| FOOD COLOUR NO & NAME | YELLOW 13, QUINOLINE YELLOW | | F.D. & C.NO. | BLUE 2 |
| F.D. & C.NO. | YELLOW 10 | | CAS NO. | 860-22-0 |
| CAS NO. | 100208-62-6 | | E.E.C. NO. | E-132 |
| E.E.C. NO. | E-104 | | I.S.NO. | 1698 |
| TOTAL DYE CONTENT CORRECTED FOR SAMPLE (MIN) | 70% | | TOTAL DYE CONTENT CORRECTED FOR SAMPLE (MIN) | 87% |
| VOLATILE MATTER (CHLORIDE & SULPHATE)(MAX) | 30% | | VOLATILE MATTER (CHLORIDE & SULPHATE)(MAX) | 13% |
| SOLUBILITY IN WATER (20 C) | 120 GRAM/LITRE | | SOLUBILITY IN WATER (20 C) | 120 GRAM/LITRE |
| COMBINED ETHER EXTRACT.MAX | 0.20% | | COMBINED ETHER EXTRACT.MAX | 0.20% |
| WATER INSOLUBLE (MAX) | 0.20% | | WATER INSOLUBLE (MAX) | 0.20% |
| CLASS | XANTHENE | | CLASS | TRIARYLMETHANE |
| LIGHT STABILITY | 4 | | LIGHT STABILITY | 6 |
| HEAT STABILITY(100 C) | 4 | | HEAT STABILITY(100 C) | 5 |
| ALKALI STABILITY | 4 | | ALKALI STABILITY | 3 |
| SUBSIDIARY DYES(MAX) | 1.50% | | SUBSIDIARY DYES(MAX) | 1.00% |
| DYES INTERMEDIATE(MAX) | 0.50% | | DYES INTERMEDIATE(MAX) | 1.00% |
| LEAD | < 10 PPM | | LEAD | < 10 PPM |
| ARSENIC | < 3 PPM | | ARSENIC | < 3 PPM |
| MERCURY | < 1 PPM | | MERCURY | < 1 PPM |
| HEAVY METALS | < 20 PPM | | HEAVY METALS | < 20 PPM |
| | | | | |
| COLOUR INDEX NO. | 28440 | | | |
| FOOD COLOUR NO & NAME | FOOD BLACK 1, BRILLIANT BLACK BN | | COLOUR INDEX NO. | 42051 |
| F D & C REF NO. | - | | FOOD COLOUR NO & NAME | FOOD BLUE 5, PATENT BLUE V |
| CAS NO. | 2519-30-4 | | F D & C REF NO. | - |
| E.E.C. NO. | E 151 | | CAS NO. | - |
| I.S.NO. | - | | E.E.C. NO. | E 131 |
| PURE DYE CONTENT CORRECTED FOR SAMPLE (MIN) | 80% | | I.S.NO. | - |
| VOLATILE MATTER (CHLORIDE & SULPHATE)(MAX) | 20% | | PURE DYE CONTENT CORRECTED FOR SAMPLE (MIN) | 85% |
| WATER INSOLUBLE (MAX) | 0.2% | | VOLATILE MATTER (CHLORIDE & SULPHATE)(MAX) | 15% |
| COMBINED ETHER EXTRACT.MAX | 0.2% | | WATER INSOLUBLE (MAX) | 0.2% |
| SUBSIDIARY DYES, MAX | 10.0% | | COMBINED ETHER EXTRACT.MAX | 0.2% |
| DYE INTERMEDIATES, MAX | 0.8% | | SUBSIDIARY DYES, MAX | 2.0% |
| LUECO BASE, % BY MASS, MAX | - | | DYE INTERMEDIATES, MAX | 0.5% |
| UNSULPHONATED AROMATIC AMINES, % MAX | 1.01% | | LUECO BASE, % BY MASS, MAX | - |
| LEAD (AS, PB), MG / KG., MAX | 10 | | UNSULPHONATED AROMATIC AMINES, % MAX | 0.01% |
| ARSENIC (as, As), MG / KG., MAX | 3 | | LEAD (AS, PB), MG / KG., MAX | 10 |
| MERCURY (as, Hg.)MG / KG., MAX | 1 | | ARSENIC (as, As), MG / KG., MAX | 3 |
| CHROMIUM (AS, CR), MG / KG., MAX | 15 | | MERCURY (as, Hg.)MG / KG., MAX | 1 |
| CADMIUM, MG / KG., MAX | 1 | | CHROMIUM (AS, CR), MG / KG., MAX | 15 |
| COPPER, MG / KG., MAX | 10 | | CADMIUM, MG / KG., MAX | 1 |
| HEAVY METALS, MG / KG., MAX | 40 | | COPPER, MG / KG., MAX | 10 |
| AROMATIC NON SULPHATED AMINES | NOT DETECTED | | HEAVY METALS, MG / KG., MAX | 40 |
| | | | AROMATIC NON SULPHATED AMINES | NOT DETECTED |
| COLOUR INDEX NO. | 16045 | | | |
| FOOD COLOUR NO & NAME | FOOD RED 4, FAST RED E | | | |
| F D & C REF NO. | - | | | |
| CAS NO. | - | | | |
| E.E.C. NO. | - | | | |
| I.S.NO. | - | | | |
| PURE DYE CONTENT CORRECTED FOR SAMPLE (MIN) | 85% | | | |
| VOLATILE MATTER (CHLORIDE & SULPHATE)(MAX) | 10% | | | |
| WATER INSOLUBLE (MAX) | 0.5% | | | |
| COMBINED ETHER EXTRACT.MAX | 0.5% | | | |
| SUBSIDIARY DYES, MAX | 4.0% | | | |
| DYE INTERMEDIATES, MAX | 0.50% | | | |
| LUECO BASE, % BY MASS, MAX | - | | | |
| UNSULPHONATED AROMATIC AMINES, % MAX | 0.01% | | | |
| LEAD (AS, PB), MG / KG., MAX | 10 | | | |
| ARSENIC (as, As), MG / KG., MAX | 3 | | | |
| MERCURY (as, Hg.)MG / KG., MAX | 1 | | | |
| CHROMIUM (AS, CR), MG / KG., MAX | 15 | | | |
| CADMIUM, MG / KG., MAX | 1 | | | |
| COPPER, MG / KG., MAX | 10 | | | |
| HEAVY METALS, MG / KG., MAX | 40 | | | |