Methylene Blue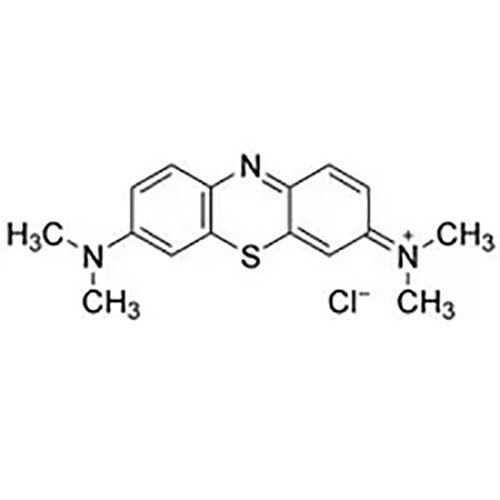 Methylene Blue
Product Description
Methylene Blue:-
We have emerged as a trusted exporter and manufacturer of high quality Methylene Blue. It functions as a general biological stain for marking parts of bacteria, animal tissue and blood tissue specimens and show the results by staining acidic cell parts blue. Used for application in chemistry & Biological fields, Methylene Blue gives blue solution upon dissolving in water.

A few notable features of Methylene Blue:

A strong cationic dye ensuring maximum absorption of light
Made up of dark green crystals/crystalline powder with bronze-like luster
Upon mixin in water/alcohol it yields deep blue color
Suitable for staining process in chemistry and biological fields
Applications:

Used as bacteriologic stain and as indicator
Used as stain in bacteriology and as oxidation-reduction indicator
Use in endoscopic polypectomy
Used in staining for making nuclei more observable.
MOQ 50kg:

Specification
Chemical Name
Methylene Blue,Methylene Blue Zinc Free
C.I.No.
52015
C.A.S. NO
7220-79-3
Chemical Formula
C16H18N3SCl
Molecular Weight
373.90 gm/mole
Dye Content (Spectrophotometry)
82%
Absorption Max (in water) at max.
663-667 nm
Absorptivity (A1%/1cm., in water, at max)
2200-2750
Loss On Drying (110 c)
10-15%