Acid Multi Color Dyes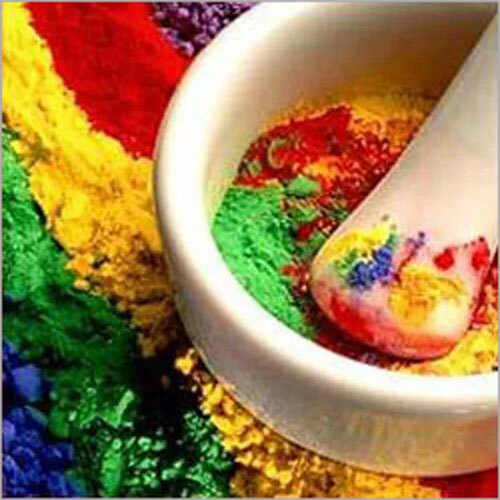 Acid Multi Color Dyes
Price And Quantity
Kilograms/Kilograms

51.00 - 60.00 INR
Product Description
Acid Metal Complex Dyes:-
We are known among the leading manufacturers and exporters of optimum grade of Acid Multi Color Dyes. This type of dye is also known as pre-metalized dyes, which provide outstanding working when it is used with protein fibers. Usually, Acid Multi Color Dyes are composed of chromium or cobalt complexes, which make it suitable for application in dyeing polyamide fibers. We offer the products in different grades to meet the demands of our clients in textile and other industries.

Some remarkable features of Acid Metal Complex Dyes:

Dyes are non-caustic, thus delivering superior results
Dyes allowing mixing with different acids like acetic, sulphuric acid and vinegar for achieving desired coloring
Reliable and safe to use
Coming in excellent light-fastness and medium washing fastness grades
Comes with superior level dyeing and penetration characteristics
Applications:

Wood stains
Leather finishing
Stationery printing inks
Inks
Coloring for metals & plastic.
MOQ 50kg:

| SHADES | SHADES | PRODUCTS | C. I. NAME | CAS NO. |
| --- | --- | --- | --- | --- |
| | | Yellow GL | Yellow 114 | |
| | | Yellow GR | Yellow 99 | |
| | | Yellow M3RL | Yellow 194 | |
| | | Orange G | Orange 74 | |
| | | Orange RL | Orange 86 | |
| | | Orange MRL | Orange 142 | |
| | | Scarlet ML | Red 357 | |
| | | Red GR | Red 183 | |
| | | Pink BE | Red 186 | |
| | | Pink Red EB | Red 195 | |
| | | Bordeaux MB | Violet 90 | 61916-41-4 |
| | | Blue 2G | Blue 158 | 16370-08-7 |
| | | Blue MTR | Blue 193 | 61916-42-5 |
| | | Olive MBGL | Green 104 | |
| | | Brown MSRL | Brown 402 | |
| | | Brown SGR | Brown 282 | |
| | | Brown HTGB | Broen 422 | |
| | | Brown M2RL | Brown 365 | |
| | | Brown M5GL | Brown 355 | |
| | | Black WA | Black 52 | 5610-64-0 |
| | | Black 58 | Black 58 | |
| | | Black GR | Black 172 | 61847-77-6 |
| | | Black MRL | Black 194 | 57693-14-8 |