Highly Exhausted Dyes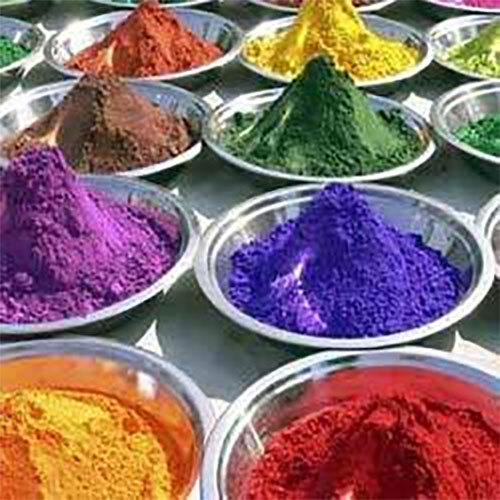 Highly Exhausted Dyes
Price And Quantity
Kilograms/Kilograms

51.00 - 60.00 INR
Product Description
Highly Exhausted Dyes
are best suited for dyeing cotton and various other cellulosic materials. We are among the leading manufacturers and exporters of high quality dyes in the industry.
Highly Exhausted Dyes
possess high quality features such as remarkable stability, easy wash off, purity in composition, etc. Having significantly good fixation and higher exhaustion efficiency, this type of reactive dye minimizes the cost incurred.
Some of the outstanding features of Highly Exhausted Dyes:
Low liquor: goods ratio
Quick wash off and efficient soaping
Excellent stability
Exhaustion of HE dyes can be controlled by salt addition
Application :
These reactive dyes are used for exhaust dyeing of:
Cotton yarn
Knits
Cellulosic Fabrics
Cellulosic component in the polyester
MOQ 50kg :

| SHADES | SHADES | PRODUCTS | C. I. NAME | CAS NO. |
| --- | --- | --- | --- | --- |
| | | Yellow HE6G | Yellow 135 | 77907-38-1 |
| | | Yellow HE3G | Yellow 105 | 176023-34-0 |
| | | Yellow HE4G | Yellow 81 | 59112-78-6 |
| | | G. Yellow HE4R | Yellow 84 | 61951-85-7 |
| | | Orange HER | Orange 84 | 91261-29-9 |
| | | Red HE3B | Red 120 | 61951-82-4 |
| | | Red HE7B | Red 141 | 61931-52-0 |
| | | Red HE8B | Red 152 | 71872-80-5 |
| | | Navy Blue HER | Blue 171 | 77907-32-5 |
| | | Navy Blue HE2R | Blue 172 | 85782-76-9 |
| | | Blue HERD | Blue 160 | 71872-76-9 |
| | | Blue HEGN | Blue 198 | |
| | | Green HE4BD | Green 19A | 61931-49-5 |
| | | T.Blue HA | Blue 71 | 12677-15-5 |
| | | Black HEBL | | |
| | | REACTIVE RED BS | | |
| | | REACTIVE RED DS4B | | |
| | | REACTIVE RED W3R | | |
| | | REACTIVE DEEP RED CD | | |
| | | REACTIVE DEEP RED SB | | |
| | | REACTIVE YELLOW RGB | | |
| | | REACTIVE RED RGB | | |
| | | REACTIVE BLUE RGB | | |
| | | REACTIVE NAVY RGB | | |
| | | REACTIVE ORANGE W3R | | |
| | | REACTIVE ORANGE CD/GDR | | |
| | | REACTIVE BROWN GR | | |
| | | REACTIVE RED VIOLET ME | | |
| | | REACTIVE RED 111 | | |