Natural Food Colour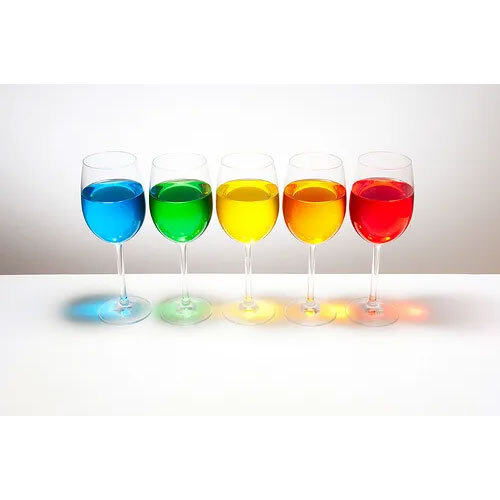 Natural Food Colour
Price And Quantity
Kilograms/Kilograms

50.00 - 100.00 INR
Product Description
Natural Food Color

is used in foodstuffs or drinks that imparts certain color. Reckoned among the leading

manufacturers,supplier and exporters,

we deal in finest quality

Natural Food Colours

that are manufactured with high grade raw . These are the class of dyes or pigments with no harmful effects to when in drinks or foodstuffs. The range is available in liquid, gel, powder and paste form. This is excellent product for beverages, dry mixes, baked goods, confections, dairy products and pet food. Customer's inquiries are most welcome.
What Is Natural Food Colour??
Natural Food Colors are a great alternative to artificial FD&C food dyes. Instead of petrochemicals, these are made from vegetables. Extracted from real foods, Natural Food Colors are ideal for your kitchen. Obtained from sources such as vegetables, seeds, fruits, algae etc. these colors are any dye, pigment or other substance. According to the use, an appropriate Natural Color can be accomplished by keeping in mind the factors such as heat, PH, light storage and other ingredients of the recipe / formula. The conditions of storage for natural colors depends on the specific need of the product.

The Natural Colour are little wild, it can be hard to see exactly how they will effect in a particular formula or recipe. The pH level, exposure to light & air, and temperature all can affect the final result. Also keep this thing in mind that natural colors are less bright or intense, compared to the chemical dyes.

Some Key Points:

Storage

Keep the containers tightly-closed in a cool place, ideally the refrigerator where they will stay fresh for around 6 months. For greater longevity, they may be keep in the freezer.

Heat

Hot temperatures / Heat cause natural colors to fade, after all, they are made from natural vegetables.

Combining Colors

You can create beautiful new color shades as well as increase the stability or intensity by mixing your own colors.

Solubility

These natural food colors are water-soluble, also you can add them to most neutral, water based ingredients in a recipe to support even dispersion.
Relative acidity of some common icing / frosting ingredients:

White sugar - no impact on acidity
Butter & cream cheese acidic
Egg whites - least acidic
Syrups (i.e. honey, corn syrup, maple syrup) - aidic
Lemon juice and cream of tartar - most acidic


Notable Features of Natural Food Colour:

Pure In Compositions, Impart Perfect Color To The Foodstuffs And Beverages, Safe To Consume,
Free From Impurities,Longer Shelf Life, No Side Effects
Can Bring Attractive Color To Your Food Dishes
Light Fastness, Good Heat Stability, Free From Moisture
Accurate Composition, Safe To Use, It Very Easy To Use
Balanced Composition, No Or Minimal Side Effects
Highly Concentrated, Good Solubility Properties
Our Primary Competitive Advantages

Digital methods of production
Modes of payment Easy and Safe

Products delivery on the times

Well known & Certified vendors for all products

Our Available Natural Food Colour

| | | | | |
| --- | --- | --- | --- | --- |
| COLOUR INDEX NO. | 19140 | | COLOUR INDEX NO. | 15985 |
| FOOD COLOUR NO & NAME | YELLOW 4, TARTRAZINE | | FOOD COLOUR NO & NAME | YELLOW 3, SUNSET YELLOW FCF |
| F.D. & C.NO. | YELLOW 5 | | F.D. & C.NO. | YELLOW 6 |
| CAS NO. | 1934-21-0 | | CAS NO. | 2783-94-0 |
| E.E.C. NO. | E-102 | | E.E.C. NO. | E-110 |
| I.S.NO. | 1694 | | I.S.NO. | 1695 |
| TOTAL DYE CONTENT CORRECTED FOR SAMPLE (MIN) | 87% | | TOTAL DYE CONTENT CORRECTED FOR SAMPLE (MIN) | 87% |
| VOLATILE MATTER (CHLORIDE & SULPHATE)(MAX) | 13% | | VOLATILE MATTER (CHLORIDE & SULPHATE)(MAX) | 13% |
| SOLUBILITY IN WATER (20 C) | 120 GRAM/LITRE | | SOLUBILITY IN WATER (20 C) | 120 GRAM/LITRE |
| COMBINED ETHER EXTRACT.MAX | 0.20% | | COMBINED ETHER EXTRACT.MAX | 0.20% |
| WATER INSOLUBLE (MAX) | 0.20% | | WATER INSOLUBLE (MAX) | 0.20% |
| CLASS | MONOAZO | | CLASS | MONOAZO |
| LIGHT STABILITY | 6 | | LIGHT STABILITY | 4 |
| HEAT STABILITY(100 C) | 5 | | HEAT STABILITY(100 C) | 5 |
| ALKALI STABILITY | 4 | | ALKALI STABILITY | 4 |
| SUBSIDIARY DYES(MAX) | 1.00% | | SUBSIDIARY DYES(MAX) | 1.00% |
| DYES INTERMEDIATE(MAX) | 0.50% | | DYES INTERMEDIATE(MAX) | 0.50% |
| LEAD | < 10 PPM | | LEAD | < 10 PPM |
| ARSENIC | < 3 PPM | | ARSENIC | < 3 PPM |
| MERCURY | < 1 PPM | | MERCURY | < 1 PPM |
| HEAVY METALS | < 20 PPM | | HEAVY METALS | < 20 PPM |
| | | | | |
| COLOUR INDEX NO. | 14720 | | COLOUR INDEX NO. | 16255 |
| FOOD COLOUR NO & NAME | RED 3, CARMOISINE | | FOOD COLOUR NO & NAME | RED 4, PONCEAU 4R |
| CAS NO. | 53026-69-9 | | CAS NO. | 2611-82-7 |
| E.E.C. NO. | E-122 | | E.E.C. NO. | E-124 |
| I.S.NO. | 2923 | | I.S.NO. | 2558 |
| TOTAL DYE CONTENT CORRECTED FOR SAMPLE (MIN) | 87% | | TOTAL DYE CONTENT CORRECTED FOR SAMPLE (MIN) | 82% |
| VOLATILE MATTER (CHLORIDE & SULPHATE)(MAX) | 13% | | VOLATILE MATTER (CHLORIDE & SULPHATE)(MAX) | 18% |
| SOLUBILITY IN WATER (20 C) | 120 GRAM/LITRE | | SOLUBILITY IN WATER (20 C) | 120 GRAM/LITRE |
| COMBINED ETHER EXTRACT.MAX | 0.20% | | COMBINED ETHER EXTRACT.MAX | 0.20% |
| WATER INSOLUBLE (MAX) | 0.20% | | WATER INSOLUBLE (MAX) | 0.20% |
| CLASS | MONOAZO | | CLASS | MONOAZO |
| LIGHT STABILITY | 5 | | LIGHT STABILITY | 4 |
| HEAT STABILITY(100 C) | 4 | | HEAT STABILITY(100 C) | 5 |
| ALKALI STABILITY | 4 | | ALKALI STABILITY | 3 |
| SUBSIDIARY DYES(MAX) | 1.00% | | SUBSIDIARY DYES(MAX) | 1.00% |
| DYES INTERMEDIATE(MAX) | 0.50% | | DYES INTERMEDIATE(MAX) | 0.50% |
| LEAD | < 10 PPM | | LEAD | < 10 PPM |
| ARSENIC | < 3 PPM | | ARSENIC | < 3 PPM |
| | | | MERCURY | < 1 PPM |
| | | | HEAVY METALS | < 20 PPM |
| | | | | |
| COLOUR INDEX NO. | 16035 | | COLOUR INDEX NO. | 42090 |
| FOOD COLOUR NO & NAME | RED 17,ALLURA RED | | FOOD COLOUR NO & NAME | BLUE 2, BRILLIANT BLUE FCF |
| F.D. & C.NO. | RED 40 | | F.D. & C.NO. | BLUE 1 |
| CAS NO. | 25956-17-6 | | CAS NO. | 3844-45-9 |
| E.E.C. NO. | E-129 | | E.E.C. NO. | E-133 |
| TOTAL DYE CONTENT CORRECTED FOR SAMPLE (MIN) | 85% | | I.S.NO. | 6405 |
| VOLATILE MATTER (CHLORIDE & SULPHATE)(MAX) | 15% | | TOTAL DYE CONTENT CORRECTED FOR SAMPLE (MIN) | 87% |
| SOLUBILITY IN WATER (20 C) | 120 GRAM/LITRE | | VOLATILE MATTER (CHLORIDE & SULPHATE)(MAX) | 13% |
| COMBINED ETHER EXTRACT.MAX | 0.20% | | SOLUBILITY IN WATER (20 C) | 120 GRAM/LITRE |
| WATER INSOLUBLE (MAX) | 0.20% | | COMBINED ETHER EXTRACT.MAX | 0.20% |
| CLASS | MONOAZO | | WATER INSOLUBLE (MAX) | 0.20% |
| LIGHT STABILITY | 4 | | CLASS | TRIARYLMETHANE |
| HEAT STABILITY(100 C) | 5 | | LIGHT STABILITY | 5 |
| ALKALI STABILITY | 4 | | HEAT STABILITY(100 C) | 5 |
| SUBSIDIARY DYES(MAX) | 10.00% | | ALKALI STABILITY | 5 |
| DYES INTERMEDIATE(MAX) | 0.50% | | SUBSIDIARY DYES(MAX) | 3.00% |
| LEAD | < 10 PPM | | DYES INTERMEDIATE(MAX) | 1.80% |
| ARSENIC | < 1 PPM | | LEAD | < 10 PPM |
| MERCURY | < 1 PPM | | ARSENIC | < 3 PPM |
| HEAVY METALS | < 20 PPM | | MERCURY | < 1 PPM |
| | | | | |
| | | | | |
| | | | | |
| COLOUR INDEX NO. | 18050 | | COLOUR INDEX NO. | 44090 |
| FOOD COLOUR NO & NAME | FOOD RED 10, RED 2G | | FOOD COLOUR NO & NAME | FOOD GREEN 4, GREEN S |
| F D & C REF NO. | D & C RED # 11 | | F D & C REF NO. | - |
| CAS NO. | 3734-67-6 | | CAS NO. | - |
| E.E.C. NO. | E 128 | | E.E.C. NO. | E 142 |
| I.S.NO. | - | | I.S.NO. | - |
| PURE DYE CONTENT CORRECTED FOR SAMPLE (MIN) | 80% | | PURE DYE CONTENT CORRECTED FOR SAMPLE (MIN) | 80% |
| VOLATILE MATTER (CHLORIDE & SULPHATE)(MAX) | 20% | | VOLATILE MATTER (CHLORIDE & SULPHATE)(MAX) | 20% |
| WATER INSOLUBLE (MAX) | 0.2% | | WATER INSOLUBLE (MAX) | 0.2% |
| COMBINED ETHER EXTRACT.MAX | 0.2% | | COMBINED ETHER EXTRACT.MAX | 0.2% |
| SUBSIDIARY DYES, MAX | 2.0% | | SUBSIDIARY DYES, MAX | 1.0% |
| DYE INTERMEDIATES, MAX | 0.5% | | DYE INTERMEDIATES, MAX | 0.8% |
| LUECO BASE, % BY MASS, MAX | - | | LUECO BASE, % BY MASS, MAX | 5.0% |
| UNSULPHONATED AROMATIC AMINES, % MAX | 0.01% | | UNSULPHONATED AROMATIC AMINES, % MAX | 0.01% |
| LEAD (AS, PB), MG / KG., MAX | 10 | | LEAD (AS, PB), MG / KG., MAX | 10 |
| ARSENIC (as, As), MG / KG., MAX | 3 | | ARSENIC (as, As), MG / KG., MAX | 3 |
| MERCURY (as, Hg.)MG / KG., MAX | 1 | | MERCURY (as, Hg.)MG / KG., MAX | 1 |
| CHROMIUM (AS, CR), MG / KG., MAX | 15 | | CHROMIUM (AS, CR), MG / KG., MAX | 15 |
| CADMIUM, MG / KG., MAX | 1 | | CADMIUM, MG / KG., MAX | 1 |
| COPPER, MG / KG., MAX | 10 | | COPPER, MG / KG., MAX | 10 |
| HEAVY METALS, MG / KG., MAX | 40 | | HEAVY METALS, MG / KG., MAX | 40 |
| AROMATIC NON SULPHATED AMINES | NOT DETECTED | | AROMATIC NON SULPHATED AMINES | NOT DETECTED |
| | | | | |
| Color Name | BLENDED COLOURS | | | |
| EGG YELLOW | BO 3090 | | COLOUR INDEX NO. | 20285 |
| YOLK YELLOW | BO 4590 | | FOOD COLOUR NO & NAME | BROWN 3, CHOCOLATE BROWN HT |
| ORANGE RED | BO 3890 | | CAS NO. | 4553-89-3 |
| STRABERRY RED | BO 4290 | | E.E.C. NO. | E-155 |
| ROSE PINK | BO 4190 | | TOTAL DYE CONTENT CORRECTED FOR SAMPLE (MIN) | 70% |
| RASPEBERRY RED | BO 4090 | | VOLATILE MATTER (CHLORIDE & SULPHATE)(MAX) | 30% |
| GRAPE | BO 3290 | | SOLUBILITY IN WATER (20 C) | 120 GRAM/LITRE |
| VIOLET | BO 4490 | | COMBINED ETHER EXTRACT.MAX | 0.20% |
| COFFEE BROWN | BO 2690 | | WATER INSOLUBLE (MAX) | 0.20% |
| CHOCOLATE BROWN | BO 2490 | | CLASS | BISAZO |
| DARK CHOCOLATE | BO 2890 | | LIGHT STABILITY | 4 |
| LIME GREEN | BO 3690 | | HEAT STABILITY(100 C) | 5 |
| APPLE GREEN | BO 2190 | | ALKALI STABILITY | 4 |
| PEA GREEN | BO 3990 | | SUBSIDIARY DYES(MAX) | 10.00% |
| BLACK CURRENT | BO 2290 | | DYES INTERMEDIATE(MAX) | 0.70% |
| FALSA | BO 4790 | | LEAD | < 10 PPM |
| KHALA KHATTA | BO 1290 | | ARSENIC | < 1 PPM |
| DARK ORANGE | BO 5290 | | MERCURY | < 1 PPM |
| PURPLE | BO 3790 | | HEAVY METALS | < 20 PPM |
| BLACK PN | BO 5390 | | | |
| | | | | |
| | | | | |
| COLOUR INDEX NO. | 45430 | | COLOUR INDEX NO. | 16185 |
| FOOD COLOUR NO & NAME | RED 14, ERYTHROSINE | | FOOD COLOUR NO & NAME | RED 9, AMARANTH |
| F.D. & C.NO. | RED 3 | | F.D. & C.NO. | RED 2 |
| CAS NO. | 16423-68-0 | | CAS NO. | 115-67-3 |
| E.E.C. NO. | E-127 | | E.E.C. NO. | E-123 |
| I.S.NO. | 1697 | | TOTAL DYE CONTENT CORRECTED FOR SAMPLE (MIN) | 87% |
| TOTAL DYE CONTENT CORRECTED FOR SAMPLE (MIN) | 87% | | VOLATILE MATTER (CHLORIDE & SULPHATE)(MAX) | 13% |
| VOLATILE MATTER (CHLORIDE & SULPHATE)(MAX) | 13% | | SOLUBILITY IN WATER (20 C) | 120 GRAM/LITRE |
| SOLUBILITY IN WATER (20 C) | 120 GRAM/LITRE | | COMBINED ETHER EXTRACT.MAX | 0.20% |
| COMBINED ETHER EXTRACT.MAX | 0.20% | | WATER INSOLUBLE (MAX) | 0.20% |
| WATER INSOLUBLE (MAX) | 0.20% | | CLASS | MONOAZO |
| CLASS | XANTHENE | | LIGHT STABILITY | 4 |
| LIGHT STABILITY | 3 | | HEAT STABILITY(100 C) | 5 |
| HEAT STABILITY(100 C) | 4 | | ALKALI STABILITY | 4 |
| ALKALI STABILITY | 3 | | SUBSIDIARY DYES(MAX) | 1.00% |
| SUBSIDIARY DYES(MAX) | 4.00% | | DYES INTERMEDIATE(MAX) | 0.50% |
| DYES INTERMEDIATE(MAX) | 0.50% | | LEAD | < 10 PPM |
| LEAD | < 10 PPM | | ARSENIC | < 1 PPM |
| ARSENIC | < 3 PPM | | MERCURY | < 1 PPM |
| MERCURY | < 1 PPM | | HEAVY METALS | < 20 PPM |
| HEAVY METALS | < 20 PPM | | | |
| | | | COLOUR INDEX NO. | 73015 |
| COLOUR INDEX NO. | 47005 | | FOOD COLOUR NO & NAME | BLUE 1, NDIGO CARMINE |
| FOOD COLOUR NO & NAME | YELLOW 13, QUINOLINE YELLOW | | F.D. & C.NO. | BLUE 2 |
| F.D. & C.NO. | YELLOW 10 | | CAS NO. | 860-22-0 |
| CAS NO. | 100208-62-6 | | E.E.C. NO. | E-132 |
| E.E.C. NO. | E-104 | | I.S.NO. | 1698 |
| TOTAL DYE CONTENT CORRECTED FOR SAMPLE (MIN) | 70% | | TOTAL DYE CONTENT CORRECTED FOR SAMPLE (MIN) | 87% |
| VOLATILE MATTER (CHLORIDE & SULPHATE)(MAX) | 30% | | VOLATILE MATTER (CHLORIDE & SULPHATE)(MAX) | 13% |
| SOLUBILITY IN WATER (20 C) | 120 GRAM/LITRE | | SOLUBILITY IN WATER (20 C) | 120 GRAM/LITRE |
| COMBINED ETHER EXTRACT.MAX | 0.20% | | COMBINED ETHER EXTRACT.MAX | 0.20% |
| WATER INSOLUBLE (MAX) | 0.20% | | WATER INSOLUBLE (MAX) | 0.20% |
| CLASS | XANTHENE | | CLASS | TRIARYLMETHANE |
| LIGHT STABILITY | 4 | | LIGHT STABILITY | 6 |
| HEAT STABILITY(100 C) | 4 | | HEAT STABILITY(100 C) | 5 |
| ALKALI STABILITY | 4 | | ALKALI STABILITY | 3 |
| SUBSIDIARY DYES(MAX) | 1.50% | | SUBSIDIARY DYES(MAX) | 1.00% |
| DYES INTERMEDIATE(MAX) | 0.50% | | DYES INTERMEDIATE(MAX) | 1.00% |
| LEAD | < 10 PPM | | LEAD | < 10 PPM |
| ARSENIC | < 3 PPM | | ARSENIC | < 3 PPM |
| MERCURY | < 1 PPM | | MERCURY | < 1 PPM |
| HEAVY METALS | < 20 PPM | | HEAVY METALS | < 20 PPM |
| | | | | |
| COLOUR INDEX NO. | 28440 | | | |
| FOOD COLOUR NO & NAME | FOOD BLACK 1, BRILLIANT BLACK BN | | COLOUR INDEX NO. | 42051 |
| F D & C REF NO. | - | | FOOD COLOUR NO & NAME | FOOD BLUE 5, PATENT BLUE V |
| CAS NO. | 2519-30-4 | | F D & C REF NO. | - |
| E.E.C. NO. | E 151 | | CAS NO. | - |
| I.S.NO. | - | | E.E.C. NO. | E 131 |
| PURE DYE CONTENT CORRECTED FOR SAMPLE (MIN) | 80% | | I.S.NO. | - |
| VOLATILE MATTER (CHLORIDE & SULPHATE)(MAX) | 20% | | PURE DYE CONTENT CORRECTED FOR SAMPLE (MIN) | 85% |
| WATER INSOLUBLE (MAX) | 0.2% | | VOLATILE MATTER (CHLORIDE & SULPHATE)(MAX) | 15% |
| COMBINED ETHER EXTRACT.MAX | 0.2% | | WATER INSOLUBLE (MAX) | 0.2% |
| SUBSIDIARY DYES, MAX | 10.0% | | COMBINED ETHER EXTRACT.MAX | 0.2% |
| DYE INTERMEDIATES, MAX | 0.8% | | SUBSIDIARY DYES, MAX | 2.0% |
| LUECO BASE, % BY MASS, MAX | - | | DYE INTERMEDIATES, MAX | 0.5% |
| UNSULPHONATED AROMATIC AMINES, % MAX | 1.01% | | LUECO BASE, % BY MASS, MAX | - |
| LEAD (AS, PB), MG / KG., MAX | 10 | | UNSULPHONATED AROMATIC AMINES, % MAX | 0.01% |
| ARSENIC (as, As), MG / KG., MAX | 3 | | LEAD (AS, PB), MG / KG., MAX | 10 |
| MERCURY (as, Hg.)MG / KG., MAX | 1 | | ARSENIC (as, As), MG / KG., MAX | 3 |
| CHROMIUM (AS, CR), MG / KG., MAX | 15 | | MERCURY (as, Hg.)MG / KG., MAX | 1 |
| CADMIUM, MG / KG., MAX | 1 | | CHROMIUM (AS, CR), MG / KG., MAX | 15 |
| COPPER, MG / KG., MAX | 10 | | CADMIUM, MG / KG., MAX | 1 |
| HEAVY METALS, MG / KG., MAX | 40 | | COPPER, MG / KG., MAX | 10 |
| AROMATIC NON SULPHATED AMINES | NOT DETECTED | | HEAVY METALS, MG / KG., MAX | 40 |
| | | | AROMATIC NON SULPHATED AMINES | NOT DETECTED |
| COLOUR INDEX NO. | 16045 | | | |
| FOOD COLOUR NO & NAME | FOOD RED 4, FAST RED E | | | |
| F D & C REF NO. | - | | | |
| CAS NO. | - | | | |
| E.E.C. NO. | - | | | |
| I.S.NO. | - | | | |
| PURE DYE CONTENT CORRECTED FOR SAMPLE (MIN) | 85% | | | |
| VOLATILE MATTER (CHLORIDE & SULPHATE)(MAX) | 10% | | | |
| WATER INSOLUBLE (MAX) | 0.5% | | | |
| COMBINED ETHER EXTRACT.MAX | 0.5% | | | |
| SUBSIDIARY DYES, MAX | 4.0% | | | |
| DYE INTERMEDIATES, MAX | 0.50% | | | |
| LUECO BASE, % BY MASS, MAX | - | | | |
| UNSULPHONATED AROMATIC AMINES, % MAX | 0.01% | | | |
| LEAD (AS, PB), MG / KG., MAX | 10 | | | |
| ARSENIC (as, As), MG / KG., MAX | 3 | | | |
| MERCURY (as, Hg.)MG / KG., MAX | 1 | | | |
| CHROMIUM (AS, CR), MG / KG., MAX | 15 | | | |
| CADMIUM, MG / KG., MAX | 1 | | | |
| COPPER, MG / KG., MAX | 10 | | | |
| HEAVY METALS, MG / KG., MAX | 40 | | | |