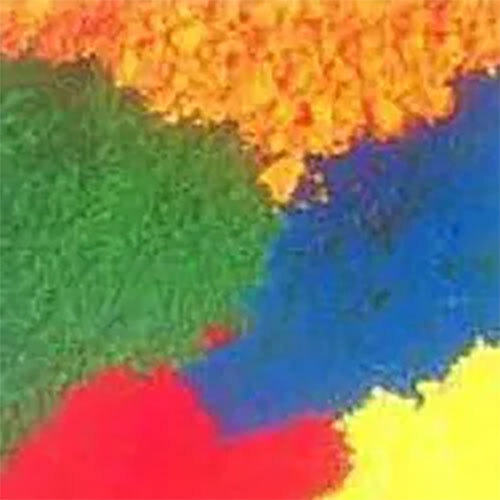 Reactive Dyes
Product Description
Welcome to MEGHA INTERNATIONAL !
!!! World's leading manufacturer,supplier & exporter of Reactive Dyes !!!

Reactive Dyes
Exclusive Collection of Right Reactive Dyes For Your Fiber !!!!

Reactive Dyes : Reactive Dyes What Are They?


In reactive dyes chromophore includes a substituent that reacts with substrate. The Reactive Dyes are known for excellent fastness properties, as there is a bonding that arises during dyeing. They are widely used in cellulose dyeing like flax, cotton etc. The Reactive Dyes are also applied on nylon and wool. They have a low degree of utilization as compared to other kinds of dyestuff, because the functional group bonds to water, making hydrolysis. As a class of highly coloured organic substances, the Reactive Dyes are used for tinting textiles.

The first fibre reactive dyes were developed for cellulose fibres, and they are largely used in this manner. For polyamide and protein fibres there are commercially available. These dyes comprise a reactive group, which when used for a fibre in a weakly alkaline dyebath, it forms a chemical bond with the fibre. A very important characteristic of dyes is the covalent bonds formation with the substrate to be colored, i.e. the dyes produce a chemical bond with cellulose which is the primary element of cotton fibres.

The Fibre Reactive Dyes are very long-lasting, you can safely wash a clothing that has been colored in bright fibre reactive colors. Unlike other dyes it creates a covalent bond with protein molecule or cellulose. The Fibre Reactive Dyes bind chemically to the fibres of textile, improving the products' wash-ability and color stability.

Reactive Dyes : Application Of Reactive Dyes

Reactive dyes are ideal for cottons or other plant material as they are highly washfast and colorfast. These are the absolute best dyes type developed for fibres or fabrics made from plant material. Fibre reactive dyes act best with cellulose (plant) fibres such as cotton, rayon and linen. Suitable for tinting textiles, they work well on silk also.

Products Features:
Impurities Free Products, Without Side Effects, Heat Stability Is Good & Moisture Free Dyes
Composition Is Accurate, It Is Very Safe To Use, It Very Easy To Use & Non-Toxic Dyes
Minimal Side Effects, Highly Concentrated Dyes, Fastness Properties Is Excellent & Excellent Solubility Properties
Excellent Quality, Non-Caustic Dyes Products, Tinting Strength Is High & Good Fastness Properties
Why We : Product Reviews & Comparisons With Others Dealers & Manufacturer

We Use Latest Production Methods & Machines for Making all type of Dyes which Make us Unique from others.

We offered Cost-Effective & Trustable Products, that is are our Aim

Qualitative Results: Our Expert team Check the Quality of

product.
Reactive Dyes is used in Wide Area like Textile Industries, Fiber Industries, etc
Autoclaves and reaction vessels is Distillation in High vacuum for set up all type of Dyes.
We Use Wide Collection of Production Utilities to Make Excellent Dyes like hot oil unit, chilling plants, generators, boiler, etc.
We have Our Self Quality Control Lab for Analysis of Our Products

We Use Packing & Drying areas Separated for Both Purpose.
Our Products & its raw materials are Stock in Highly spacious warehouses
Our Manufacturing Facility

We are supported by an advanced manufacturing facility that helps us in producing effective Reactive Dyes,Dye Chemicals,Pigment Dyes, etc and other allied products. It shows a right mix of latest technology, tools and tested raw materials. There is a series of manufacturing activities that are well coordinated to bring desired outputs. The facility integrates the concepts of modern methods, consistent quality and cost-effectiveness.

Along with the manufacturing facility we have:

Quality Control Wing
Expert Team
Excellent Distribution Network
Contact Us
No 76-80/3, Dr. Kuverji Raishi Road, Mumbai, Maharashtra, 400009, India
Phone :91-22-23480253/23481600/32950023